Introduction
Are you looking for Mother's Day paper crafts kids can easily make?
Mothers' Day is just around the corner and we know most will be in a mad rush trying to figure out what to give moms. We've got one super simple project for the kiddos to make that is quick and easy.
Ready to get started? Let's go!
First, you'll need to gather some materials:
Colored paper
One marbled paper created with the Craftorama Marbling Paint Art Kit
Stickers or felt hearts (optional)
Marker or pen for writing your message
Cutter or scissors
Glue
Ruler
Pencil
Instructions
Before you make this project, you'll need to make your own marbled paper with the Craftorama Marbling Paint Art Kit. Once the marbled paper is dry you can proceed to the next steps.
Start off by measuring and cutting four 1cm strips from your marbled paper.
2. Cut them in half and glue the ends together.
3. Cut off a piece of green paper. This will be the stem of your flower. Glue the paper stem onto a piece of cardboard or paper. Arrange the strips of paper on top of the stem to form a flower shape.
4. Once you've glued all the strips of paper, cut a circle to put on the center of the flower. You can also put other materials like a felt heart or tiny pom poms.
5. Cut out leaf shapes from green paper and glue it on the stem. Your Mother's Day flowers are done! You can now add a message to show how much you love mom.
If you want to add more flowers, move on to the next step. We'll show you another technique to build your flowers.
6. Cut out four 0.5cm strips of paper from your marbled paper.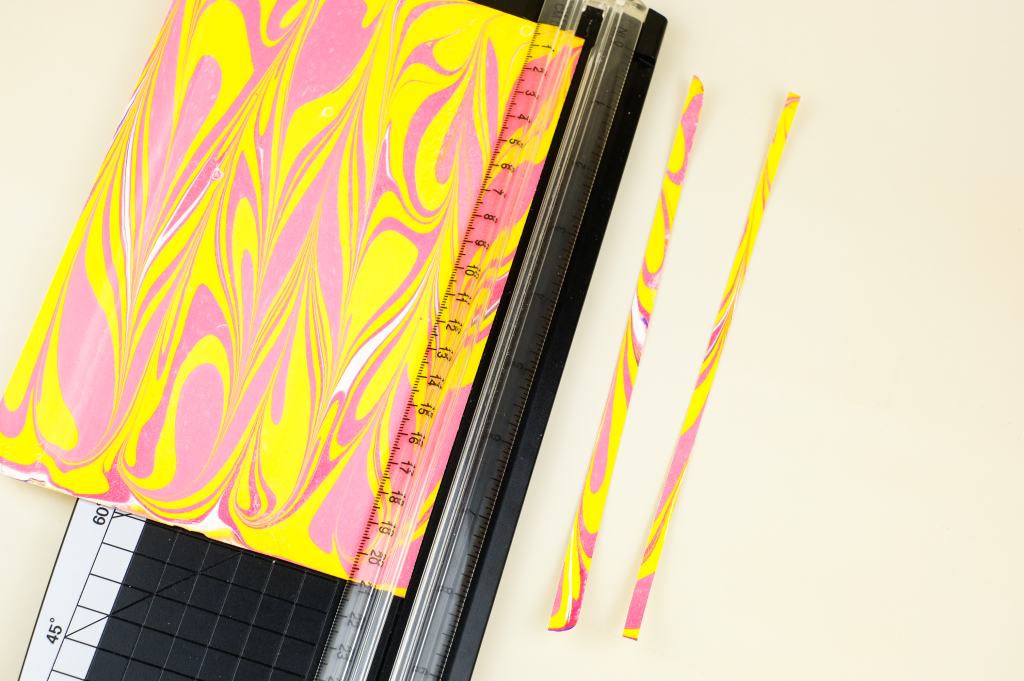 7. Fold them in half. The center line will be your guide when you glue the ends of the strips of paper to the center of the strip. Be careful to not make a crease so the strips of paper will form a nice, rounded shape.
8. Once you've folded the four strips of paper, arrange them as shown in the picture below:
9. Cut another green strip of paper for a stem, place the flower on top of the stem, glue it on and add a center to your flower. It can be a circle piece of paper or mini pom poms. Add a greeting, and you're done!
Handmade gifts make Mother's Day even more special so why not have a go at this project?
We hope you enjoyed making this. Let us know if you've tried it. Give us a tag on social media.
Want to create your own marbled paper too? Grab a Craftorama Marbling Paint Kit today!
Save this project for later. Pin this on Pinterest: